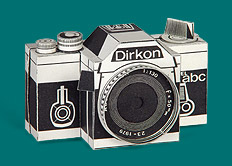 Cut-Out paper pinhole cameras known as the Dirkon, published in 1979 in the (Communist Czechoslovakia) magazine ABC mladých techniků a přírodovědců [An ABC of Young Technicians and Natural Scientists].

Pinhole CZ maintains a website with the instructions for making the Dirkon camera which you can download in Adobe PDF format.

Find it here: http://www.pinhole.cz/en/pinholecameras/dirkon_01.html

If you share this link please let everyone know you found it here at: freephotostuff.blogspot.com

Thanks.